ACH raises awareness around designated Safe Places for youth in crisis across Tarrant County
FORT WORTH, Texas (March 15, 2021) – Every March, ACH Child, and Family Services celebrates National Safe Place Week, March 21-27, to increase awareness around Safe Place, a national program locally administered by ACH. Safe Place designates community spaces like schools, churches, fire stations, and libraries—as well as local QuikTrip locations—as safe spaces for youth in crisis to receive assistance and resources.
The community is invited to join ACH live on Facebook, March 23 and 25 at 5 p.m. where ACH's Safe Place Coordinator Timothy Wright will discuss the challenges youth are facing today. He will be joined by a panel of experts from ACH, Unbound, and the Keller Public Library to discuss mental health, human trafficking, homelessness, self-harm/suicide, and many other topics. This event is free and open to everyone.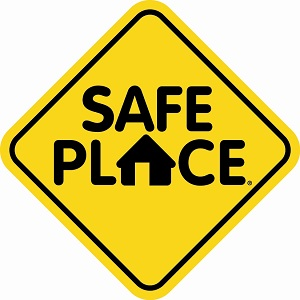 Each of the over 250 Safe Place locations in Tarrant County are marked with a prominent, highly visible yellow "Safe Place" sign. Within 30 minutes of a youth's arrival to one of these locations, a Safe Place representative appears to evaluate the young person's crisis and ensure that they are safe from harm. Youth can also text the word SAFE (7233) and their current location to 4HELP (44357) to receive immediate help. If there is no other place for the youth to go, they are moved to ACH's Youth Emergency Shelter, where they can receive free counseling and skill-building classes."For youth today, there is increased exposure to risky or harmful behaviors, especially with social media amplifying ordinary feelings of inadequacy or loneliness," said Wright. "This panel will provide great and important resources for youth of all ages."
"Spreading the word about these spaces around our communities is critical. We want to reach the ears, eyes, and hearts of the youth who need it most," said Wright. "Without programs like Safe Place and the ACH Youth Emergency Shelter, most of the youth we serve would have no option but life on the streets, perpetuating a vicious cycle of physical and emotional abuse that stems from chronic homelessness and human trafficking."
In 2020, ACH helped 37 young adults through Safe Place. The year before, ACH reached 10,392 local youth through school and community presentations. Due to the pandemic, far fewer youth were made aware of Safe Place in the last year, which makes increased awareness imperative.
Information is posted at all Safe Place locations, including the texting instructions and 1-800-RUNAWAY (1-800-786-2929). Calls are confidential and phone lines are monitored 24/7.
To learn more about the National Safe Place initiative and to find the nearest Safe Place location nearest to you, visit www.NationalSafeSpace.org. Learn more about how ACH is helping youth across the Fort Worth region at www.ACHservices.org.
###
About ACH
With over a century of experience, ACH Child and Family Services, a Fort Worth-based nonprofit agency, brings needed resources and skills to children and families struggling with life's challenges. Some of our 17 programs and services keep children and families together while others provide a healing home for children who can't live with their families. Through the Our Community Our Kids division, ACH is leading the way in Community-Based Care in seven counties of the Texas foster care system. ACH has been accredited every year since 2003 by the Council on Accreditation and in 2018 Our Community Our Kids became nationally accredited. Our vision is for families to thrive and children to experience safety, hope and love. Learn more at ACHservices.org.
817.335.HOPE (4673)  |  ACHservices.org