COVID-19 has not discouraged future foster parents from trying to change a child's life during May's National Foster Care Month and all year long. Right now, ACH Child and Family Services has 26 families in virtual training to become foster or adoptive families or kinship caregivers
"Even with a pandemic, families are stepping up each and every day to provide a child with a safe, loving home," said Stella Maggs, Director of Foster Care and Adoption at ACH.
Foster care, Adoption, and Kinship training classes are currently being provided on Zoom. However, as state-mandated, some classes are still held in person, such as First Aid and CPR.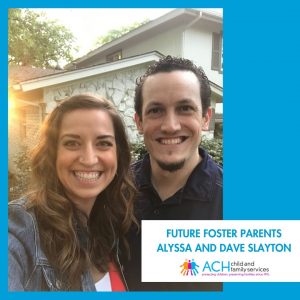 Dave and Alyssa Slayton are of one of the many couples who have been doing online trainings to become foster parents at ACH.
"I can honestly say, because of COVID-19, there have been some bumps along the way, but ACH has either had a solution or one in the works," Alyssa said.
Going virtual with trainings through Zoom has allowed potential foster parents to attend trainings as far as Weatherford, Gainesville, and Balch Springs.  Dave saves an hour-long commute to ACH's Wichita campus from his job.
"Now his commute is from one computer to the next," Alyssa said.
One thing that has impressed them, is how well-adapted and resourceful the Adoption & Foster Care team has been during the trainings.
"We would have thought they had done all of this before," Alyssa said. "It could have been a very mundane process, but the teachers were diligent about keeping the class interactive and intrigued."

BRANCHING OUT
When the pandemic hit, Family Engagement and Placement Supervisor Rene Rodriguez said he wanted his department to reach as many people possible. Zoom trainings have allowed ACH to reach families far and wide around North Texas.
"ACH's name is everywhere now," Rene said. "People seem to like the virtual approach as it's more convenient—and keeps us all safe!"
ACH's Adoption & Foster Care team planned on expanding meet and greets with prospective foster parents to more cities by the end of the year. However, the pandemic forced them to expand reach in just a few days.
"We had to," Rene said. "Kids can't wait and we in the Foster Care & Adoption Department know that all too well."
BECOME A FOSTER PARENT!

The need for caring parents is greater now during the COVID-19 outbreak. Join our virtual training classes to become a Foster or Adoptive parent and provide a child in-need with a safe and loving home. ACH is here to help you every step of the way.